Scholarship Stories: Hope for Tomorrow
Hope for Tomorrow is a dedicated charity, bringing cancer care closer to patients' homes via Mobile Cancer Care Units. Nurses on board provided 17,000+ treatments in 2019 across 34 communities.
In 2019, The Burdett Trust provided Hope for Tomorrow with a grant to support their 'Care Miles' mobile cancer care project, after having been identified as a potential supporter by Susanne Knaus, Grants & Trusts Fundraising Officer. Together, we are changing the way cancer care is delivered, providing patients with the opportunity to receive care closer to home/work, allowing nurses to care in a more relaxed yet state-of-the-art environment and helping the NHS to expand oncology capacity to meet rising demand.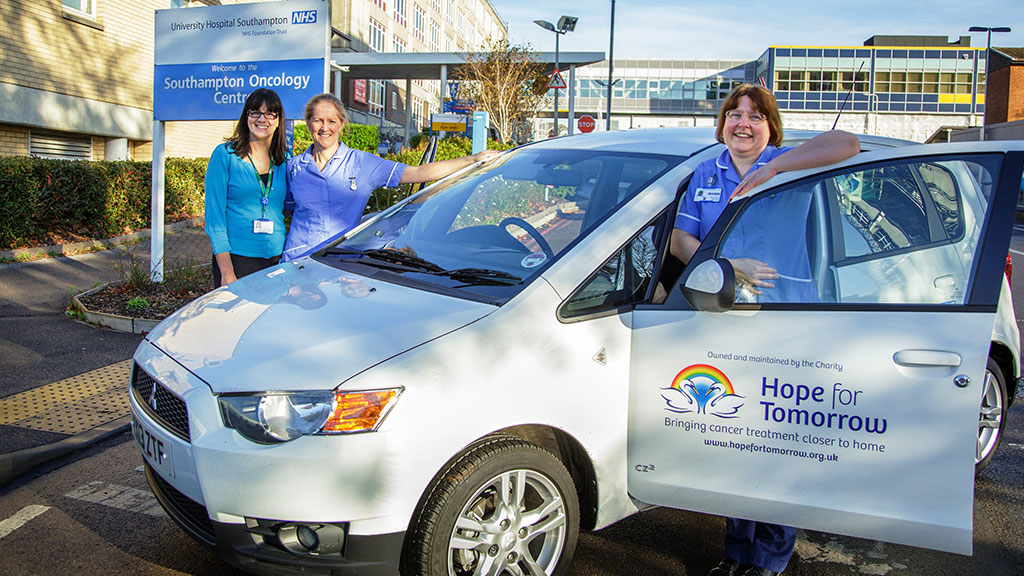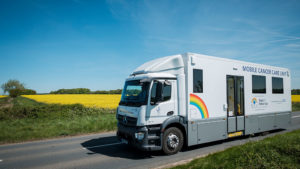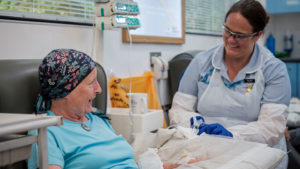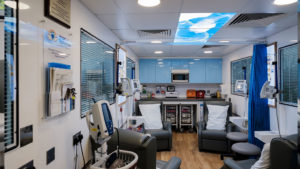 What was the focus of your funded project?
Susanne: Our Care Miles project aims to provide convenient, comprehensive and compassionate cancer care locally. Many patients, particularly those in rural areas, need to travel considerable distances or for long periods and have to rely on friends or public transport. 
Our units reduce the need to travel to main oncology departments, a trip that can be anywhere from 40 to 60 miles away in some counties. Patients are treated by the same nurses they would if having treatment at their main oncology department.
We develop, build, provide and maintain 12 units across England. Ten of the units are in active service and two are reserves in place to ensure continuity of service during the maintenance schedule. We also provide a nurse support vehicle with each unit, which allows the nursing team to transport the necessary drugs to and from the daily treatment locations.
Why is local care important?
Studies show that patients travelling more than 50 miles negatively affects diagnosis, prognosis, treatment compliance and quality of life associated with repeated weekly or monthly treatments for many years. 
We enable thousands of patients each year to receive their regular specialist cancer care closer to home or work aboard our fleet of units instead of traveling to their main oncology department at the hospital. This alleviates the stress of travelling, reduces the financial pressures associated with parking, transport, facilitates treatment compliance and enhances quality of life. 
Moreover, patients gain valuable time that they can spend with family and friends doing the things they love – living a life 'outside of cancer'.
Whom does your project help?
Our primary beneficiaries are cancer patients aged 18+, with more than 60% aged 65+, as well as their family and friends. 
Take for example Carly, diagnosed in 2017 with stage-three breast cancer that had spread to the lymph nodes in her arm. Following her initial treatment at a city hospital which was a 60 minute roundtrip from her home, Carly was eligible and chose to receive treatment aboard one of our units that stopped once a week at a location just five minutes from her home. She was able to fit her treatments in with her regular activities as mother, wife and worker.  
Our NHS nurses are also beneficiaries. They can provide 1-to-1 care using state of the art cancer care equipment, deliver holistic service in a more relaxed environment and build closer nurse/patient relationships. The unit facilitates better mentor/student nurse learning opportunities. With only four patients on board at a time, nurses can spend more time per patient and greater attention on performing specific treatment types.
Our partner NHS Trusts likewise benefit as the unit helps to reduce hospital waiting times and pressure on busy oncology centres, increase capacity within the day care chemotherapy setting whilst also improving their patient experience by offering care closer to home.  
How did the funding help the project?
The funding we received allowed us to operate one of our ten allocated mobile cancer care units for 90 days which meant patients visited 1,600+ times for treatments. Cancer nurse specialists administered chemotherapy, PICC line care, infusions, injections and more to treat 12 different cancers, including breast, gynaecologic, lung, urologic and haematologic.
How will the project grow and develop in the future?
As part of our 5-year strategy 2019-2024, we hope to serve more patients in more convenient locations by growing sustainably and maximising the usage of our mobile cancer care units. For example, we plan to launch a new unit later in 2020 to offer cancer patients in a new rural county an alternative treatment location choice instead of the acute care hospital setting. 
We work with our NHS Trust partners and others to identify and develop innovative approaches to meet the needs of our patients. Recently, for example, our Airedale unit introduced the use of a scalp cooler aboard that patients use during chemotherapy to help reduce hair loss. 
Patients visiting our South Wiltshire unit are offered aromatherapy foot massages that help them relax during treatment. Our Gloucestershire unit is maximising its usage by providing Herceptin treatments on Monday's at the hospital while the pharmacy prepares the medication needed for travel on Tuesday to Friday. 
Where can people go to find out more about the project?
Our website www.hopefortomorrow.org.uk provides a lot of information about who we help and how. You can find out how to get involved, whether as a volunteer in support of your local mobile cancer care unit or how to help fundraise for us. We have some fun and challenging events around the country scheduled, such as our It's a Knockout – Family Fun Day in July 2020. 
The Burdett Trust for Nursing was established in 2002 with the aim of making charitable grants to support the nursing contribution to healthcare. The Trustees target their grants at projects that are nurse-led and that empower nurses to make significant improvements to the patient care environment. The Trustees regularly review their grant-making policies and procedures to ensure that their grants achieve positive outcomes for patients, nursing and healthcare practice.
Find us online: www.btfn.org.uk
Facebook: facebook.com/burdetttrust
Twitter: @burdetttrust
Instagram: @burdettrust