Robert Myers returns to RHS Chelsea 2020 to celebrate modern day Nursing on the bicentenary of Florence Nightingale's birth
A garden to mark the bicentenary of the birth of Florence Nightingale and celebrate the importance of the nursing profession in the 21st century, will be created for RHS Chelsea's Main Avenue in 2020.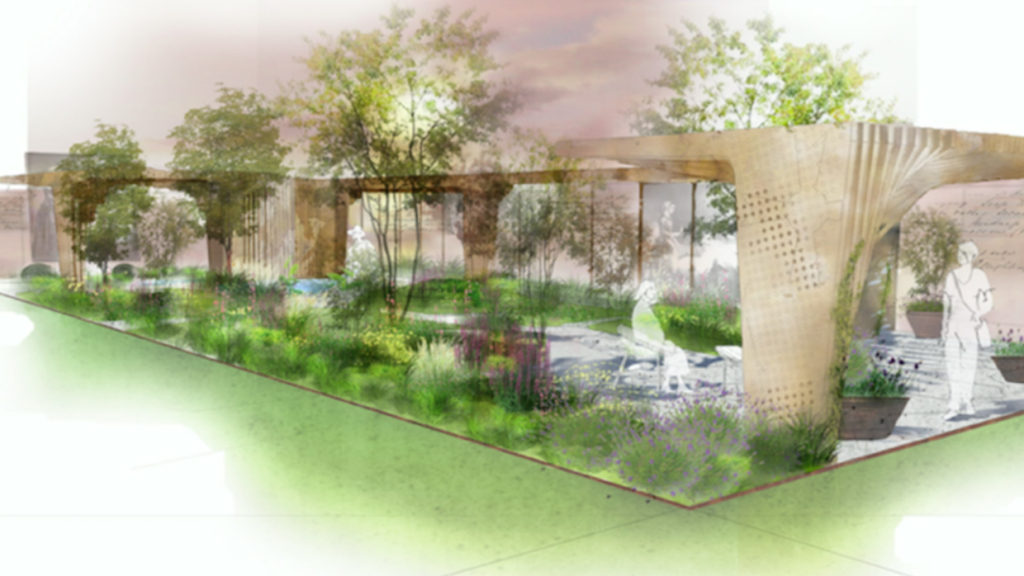 Designed by Robert Myers, The Florence Nightingale Garden – A Celebration of Modern Nursing, will depict a courtyard garden for a new hospital, enclosed on three sides by a sculptural timber pergola and surrounded by imagined perimeter rooms that evoke the 'pavilion' hospital layouts proposed by Florence Nightingale.
The restorative garden has been designed for viewing from inside the building, as well as for sitting in and strolling through with shaded places to rest among naturalistic planting and a reflecting pool to engage the senses. The centre of the garden will feature mounded ornamental beds, to create privacy, and a stylised woodland glade offering sun and dappled shade.
Returning to RHS Chelsea after a seven-year absence, Robert Myers said:
"The theme of the garden is 'nurture through nature', inspired by the idea that the shortest road to recovery leads through a garden. The garden will celebrate Florence Nightingale's contribution to modern-day nursing using architectural design and modern, sustainable materials to represent her enduring reforms in hospital construction and vibrant planting to highlight the importance of green spaces for health and recovery. It has been a wonderful challenge and reflects my own passion for creating contemporary landscapes in historically and culturally significant contexts."
The garden will evoke key elements of Florence Nightingale's life: pale concrete and timber will represent the materials that she endorsed for hospital construction; a reflecting pool will reference her insights into drainage and cleanliness; and the plants in the garden will include some found in her own pressed flower collection as well as plants with strong medicinal properties which were used in the 19th century. In addition, images of Florence will be etched on glass windows and echoes of her handwriting will appear to be inscribed onto the concrete walls to embody her extensive writing in support of healthcare reform.
In recognition of modern-day nursing, a striking installation at the front of the garden will display the recently redesigned Nightingale Nurse badge, denoting both her enduring legacy and her ability to inspire the next generation of leaders in the nursing profession.
The garden is sponsored by the Burdett Trust for Nursing – a charity that supports nurse-led initiatives to enable nurses in their professional development and empowers them to improve patient care. Chief Executive, Shirley Baines, said:
"Florence Nightingale was at the forefront of modern-day nursing and an active lobbyist for reforms in healthcare. As the architect of the modern hospital, she recognised that the hospital environment had a strong influence on patient outcomes. While she understood the importance of fresh air, sunlight and green spaces to wellbeing and recovery, she also recognised the significance of the architectural design and materials used in hospital construction. We are delighted that Robert has so successfully encapsulated all of these important elements into our Chelsea garden through its contemporary design, considered planting and modern sustainable materials.
Today, as a result of Florence Nightingale's pioneering work, nursing is a highly skilled profession that makes a significant contribution to global healthcare. Modern-day nurses are at the forefront of progressive healthcare provision and we support these nurses in their professional development to create new leaders for the future."
PRESS INFORMATION
For further information and images please contact:
Suzanne Hind or Theresa Osen at HIND + OSEN
Suzanne Hind: suzanne@hindandosen.com or 07813 208 168
Theresa Osen: theresa@hindandosen.com or 07931 335 930
NOTES TO EDITORS
About the Burdett Trust for Nursing
The Burdett Trust for Nursing is an independent charitable trust named after Sir Henry Burdett KCB, the founder of the Royal National Pension Fund for Nurses (RNPFN).
The Trust was set up in 2002 in recognition of the foundation, philosophy and structure of the RNPFN. Nurses, midwives and the allied health professions make up the majority of the healthcare workforce and play a pivotal role in direct care to patients. The Trust makes grants in support of nurse-led projects, using its funds to empower nurses and make significant improvements to the patient care environment.
About Robert Myers Associates
Garden designer and landscape architect, Robert Myers has won six gold medals at the RHS Chelsea Flower Show, including for his garden for Brewin Dolphin, in 2013, when he was last on Main Avenue.
Since then, he has won a 2017 award from the Landscape Institute and two from the Society of Garden Designers – including the Grand Award – for the Magic Garden, a new family garden at Hampton Court Palace on the site of Henry VIII's tournament ground which was officially opened by the Duchess of Cambridge.
His practice Robert Myers Associates (RMA) has offices in Worcestershire and Cambridge, and works in many different contexts, urban and rural. Clients include private individuals and rural estates, developers, and institutions such as cathedrals, universities and schools. It is known for its attention to detail and the delivery of high quality schemes, no matter the scale.
Previous landscape design work includes various external spaces for Central Middlesex Hospital, including several courtyards and a memorial garden for stillborn babies around the new Ambulatory Care and Diagnostic Centre (ACAD), and a garden for its Midwife-led Birthing Unit; and the landscape around the New Gloucester Royal hospital.
Current projects include the restoration of Clandon Park, Surrey for the National Trust, working with architect Allies & Morrison; a Capability Brown landscape around Youngsbury in Hertfordshire; the grounds around churches including Christ Church Spitalfields and St Mary's Islington, in London; the landscape around new student and postgraduate residences for King's College, Cambridge; and the updating of the 50-year landscape strategy for The Backs, in the centre of Cambridge.